DISCOUNTED FALL RATES!
Call or Click to Book Tarry Ho between 9/21/17 - 10/4/17 for stays between 9/22 -10/4/17.
(No other discounts can be applied)

Includes 2 Adults, 2 Kids (12 & under), & 1 Dog (need rabies vac. proof)
Extras for RV, Tent & River Sites (Not cabins -see below): Adult, Kid, Dog or Car $5 each

Tent $29: Community water, no electric & some wi-fi (for 2 small tents - up to 4-6 person tent) Max 4 people
River Site (Tents only): Water, electric & wi-fi $39 (for 2 small to medium size tents) Max 4 people
Premium River Site $49: Water, 20 amp electric & wi-fi, NO SEWER (Camper under 25' or 2 small- med size tents) Max 4 people
RV 20 & 30 amp, water, sewer & wi-fi $39
RV 50 amp, water, sewer & wi-fi $49

Cabins 1, 2 & 3 Priced for 2 people, 1 vehicle (see Cabin Extras below)
Cabin 1: $59 (2 twin beds, no bathroom, no kitchen) Max 4 people
Cabin 2: &79 (1 Queen bed, bathroom, no kitchen) Max 3 people
Cabin 3: $89 (1 King bed, bathroom, no kitchen) Max 3 people

Cabins 4, 5 & 6 Priced for 2 Adults, 2 kids 12 & under, 1 vehicle
Cabin 4: $129 (2 Queen beds, in 1 bedrm bathroom & kitchen) Max 4 people
Cabin 5: $139 (2 Queen beds in 2 bedrms, bathroom & kitchen) Max 4 people
Cabin 6: $149 (2 Queen beds, 1 Full bed in 3 bedrms, bathroom & kitchen) Max 5 people

Cabin Extras: Adults $10, Kids $10, Dogs $10, No tents outside cabins, All Cabins NON-SMOKING, All Cabins, must bring own linens
*Please read additional information, including cancellation/refund policy, here: Campsites & Cabins and Rules & Info

Call us between 9am & 8pm at 603-846-1026, or check online - click blue button below.

The 302 Grill is closed for the season. We do have Blakes Ice Cream available in Tarry Ho Office/Store until 10/10/17 or til it's gone!
Thanks to all who stopped by!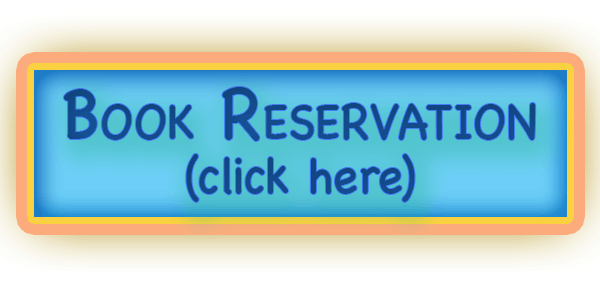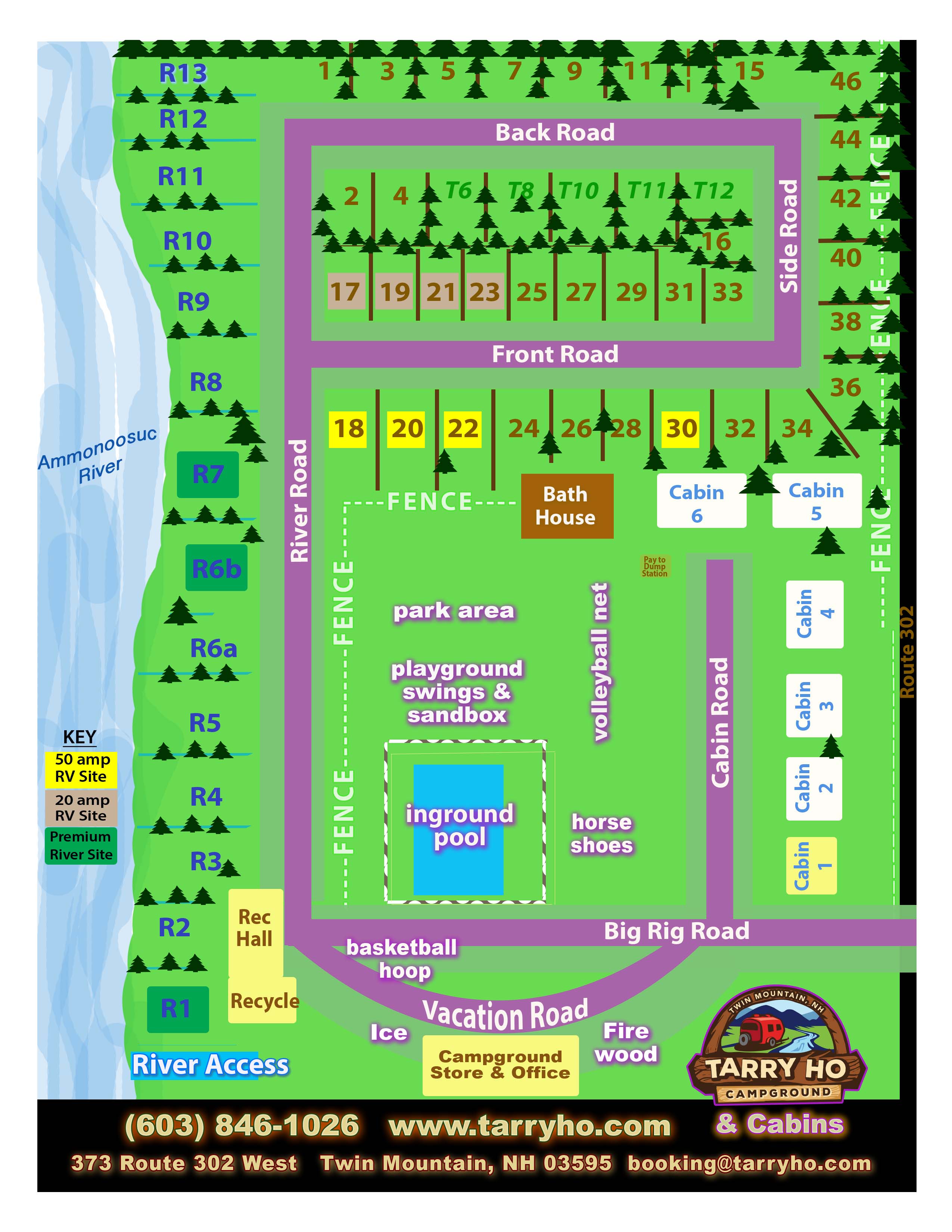 Click to View Tarry Ho Campground Map
*Note, info missing from map key - all other site numbers are 30amp


Top 5 Reasons to Camp at Tarry Ho Campground



Tarry Ho is a great Pet Friendly White Mountain campground with river sites, tent sites, RV sites & Cabins.
A relaxing atmosphere surrounded by natural beauty, along the Ammonoosuc River accessible to all campground guests.
Retreats, outings, family gatherings, hiking groups, golfing groups, and those who just 'want to get away'.
Free hot showers in our super clean, newly renovated Bath House (2016)
Wi-fi throughout the campground at ALL sites (most recent upgrade June 2017)

2017 Seasonal Sites Available (3-way hookup W/S/E, River Sites or Tent Sites)

Workamper Positions Available:
302 Grill Positions Available- weekend shifts vary between 6:00am - 9pm
A few'Work-in-Trade positions available.
Call Michelle (603) 846-1026 for more info
Why Stay at Tarry Ho?
We are a pet friendly campground. We LOVE dogs!!
Beautiful sounds of the river and mountain views.
Perfect location to see so much of the White Mountains... sightseeing, waterfalls, hiking trails, adventures, and paid attractions.
Variety of outdoor accomodations.
Wooded and grassy sites, some on the river (higher up so no flooding).
Sunny or shady, all campsites & cabins have a picnic table and fire ring.
We also offer tent sites without amenities, water and electric sites,
and 3 way hookup sites (water, sewer & electric -30 amp or 50 amp).
Satellite dish access (not all sites, let us know when make rez)
Campground-wide WiFI
Super clean Bath House & Restrooms
Bath house showers renovated 2016.
Showers are clean, hot and FREE!
Our store/office has maps, brochures and hiking info, info on covered bridges, waterfalls, scenic attractions...
Right up the road you can visit Omni Mt. Washington Hotel, ride the chairlift at Bretton Woods for an incredible, unforgettable view of Mt. Washington
and take the Cog Railway to the top of Mt. Washington
Golf Discounts to surrounding courses (may need 24 hour notice):
Bretton Woods, Maplewood, Waumbec, Wentworth, Mt Washington & Androscoggin/Shelburne

We have 20% off to Bretton Woods adventures (ask in office) Zip-Line (Canopy Tour), base area has playground for kids and mini zip line they can ride for free, biking, mini ATV's and more!

---
Where Guests are like Family!
We look forward to your stay with us. We'll help make your vacation special!
Hope to see you here soon!

Smiles,
The Palys Family
&
Super Friendly Amazing Staff at Tarry Ho



Tarry Ho Campground & Cabins DISCOUNTS
(Must show proof and cannot be combined with other discounts) :

7th NIGHT FREE Discount (not Sat to Sat)
Military Discount 15%
Police, Fire & EMT Discount 15%
Good Sam 10% (only RV sites w/3way hookup)
AAA 10% (cabins only)
Realtor Discount 10%
Healing With Arts Discount 10%
Manchester Christian Church Discount 10%
Photo 66 Student Discount 10%
Call for details, restrictions may apply during blackout dates
Payment/Cancellation/Refund Policy: see Rules & Info page

GIFT CERTIFICATES AVAILABLE